Mason City Motor Speedway celebrates champions in season finale
August 27, 2017 | by Blake Schultz, Globe Gazette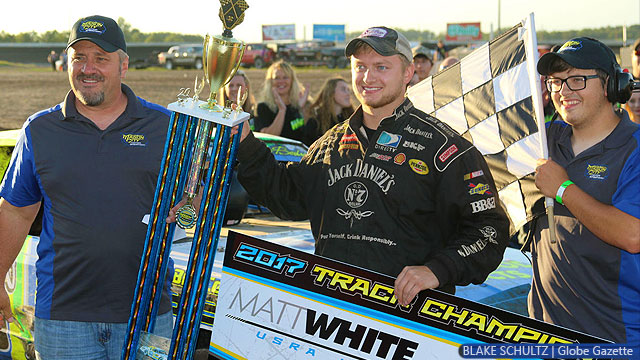 Turn the lights out on the 2017 racing season at Mason City Motor Speedway. And mark it as another step forward for the track building itself back to prominence.
There were down times in the doldrums of summer, but promoter Al Hejna learned another thing or two to use to continue to strive for greatness in 2018.
But before that can happen, the track hosted one final show, and it was a good one on a night honoring the track champions with the Dale Kjellsen Memorial Season Championships.
Read Full Story >>>>
= = = = = = = = = = = = = = =
OFFICIAL RESULTS
United States Racing Association
Summit USRA Weekly Racing Series
Mason City Motor Speedway, Mason City, Iowa
Sunday, Aug. 27, 2017

BUDWEISER USRA MODIFIEDS
– Jason Cummins, J.D. Auringer, Ryan Ruter, Levi Nielsen, Logan Brown, Dustin Brown, Devon Havlik, Alex Hanson, Doug Hillson, Dan Albright, Aaron Benson, Shane Monson, Alex Yohn.
HOLLEY USRA STOCK CARS
– Luke Sathoff, Steve Jackson, Kevin Donlan, Joseph Willier, Cody Frerichs, Jesse Brown, Josh Zieman, Arlen Hoy, Dylan Suhr, Kellie Schmit, Rick Todd, Wyatt Medlin, Nadia Treichel, Dan Feltus, Dave Kuykendall.
OUT-PACE USRA B-MODS –
Brandon Hare, Alex Zwanziger, Jim Chisholm, Dustin Kruse, Jayden Larson, Nate Whitehurst, Josh Appel, Todd Hanson, Levi Chipp, Zack Tannahill, Kyle Germundson, Dallas Nutt, Carter Koop, Rick Baxter, Daryl Ruter, Jesse Pergande, Jared Boumeester.
USRA HOBBY STOCKS
– Andrew Borchardt, Scott Dobel, Derek Willert, Matt White, Tony Smidt, Zac Smith, Blaine Hanson, Jamie Odor, Jay Servantez, Connor Smith, Connor Smith, Joel Showalter, Jim Lokenvitz, Greg Lammers.
ROOKIES ROCKIN' USRA TUNERS
– Kyle Balik, Ryan Bryant, Mitch Balik, Brad Mayland, Hunter Benson, Jamie Tapp, Sam Umbarger, Oliver Monson, Colin Rodgers.