Monster X Tour invades Mason City July 24-25
July 8, 2020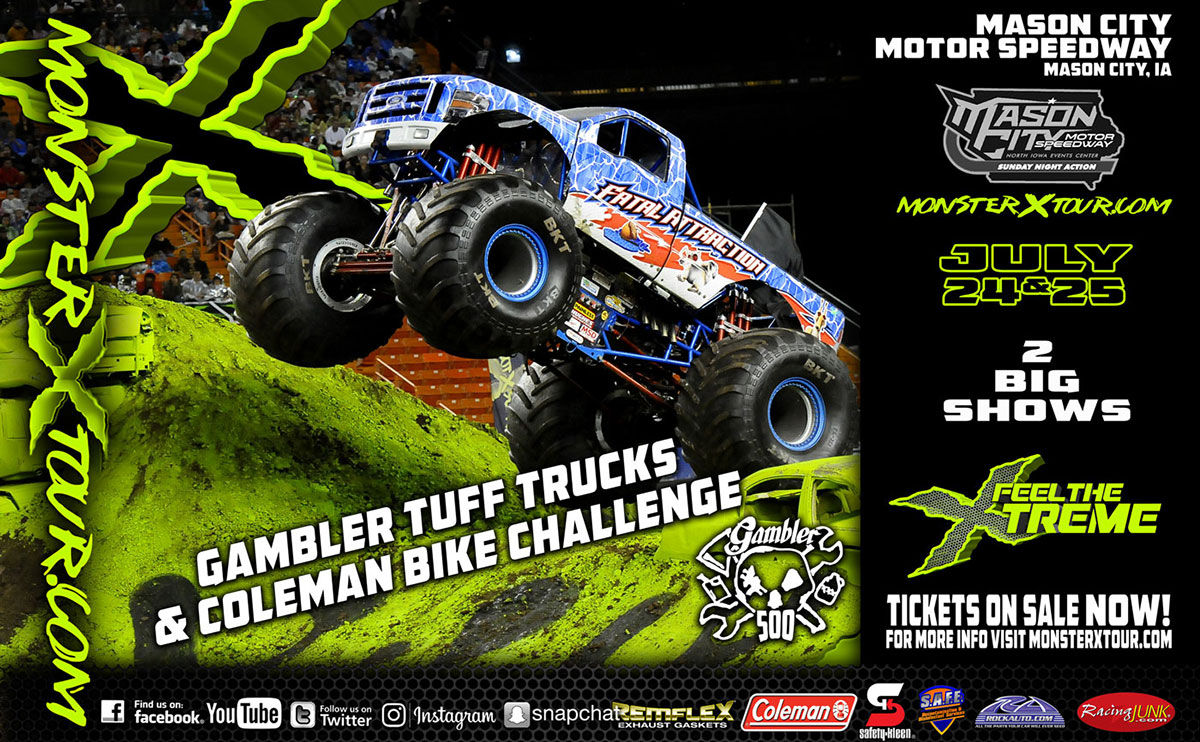 The Mason City Motor Speedway will be motorsport entertainment's epicenter with the nation's most competitive Monster Trucks as they invade on Friday and Saturday, July 24-25, with two Monster shows!
See these incredible 10,000-pound, car-crushing giants compete in racing, wheelie contests and rock the house with amazing freestyle action during the Monster X Tour!
Plus, you can meet the drivers and see the Monster Trucks up close at the pre-event Autograph Pit Party!
MONSTER TRUCKS:
• KAMIKAZE... Nothing is stopping this Monster!
• VENDETTA... He's got something to prove!
• EQUALIZER... He's going to level the field!
• HANG LOOSE... He's having the time of his life!
• ROCKWELL RED... He's going to wreck the competition!
ADDITIONAL FEATURES:
PIT PARTY & DRIVER AUTOGRAPH SESSION... Come early, meet the drivers, get autographs, and take photos with the drivers and their Monsters. Pit Party Pass must be accompanied by an event ticket.
GAMBLER 500 TUFF TRUCK CHALLENGE... Watch as these hard core off roaders attempt to tackle the toughest obstacle course in style!
RIDE TRUCK... That's right! Get the ride of your life on-board a real Monster Truck during the Pit Party and Intermission!
WHEN:
Friday, July 24: 7:30 p.m. (Pit Party 6-7 p.m.)
Saturday, July 25: 1:30 p.m. (Pit Party 12-1 p.m.)
ADVANCE TICKETS:
Adults starting at $20
Kids 2-11 starting at $15
Tickets are subject to a service charge.
• Fees may be applied - Children under 2 are free
• Ticket prices go up day of show
WHERE:
Mason City Motor Speedway
3700 4th Street SW
Mason City, IA 50401
(641) 424-6515
masoncitymotorspeedway.com