Mason City Motor Speedway back on track
July 9, 2018 | by Luke A. Garza, The Globe Gazette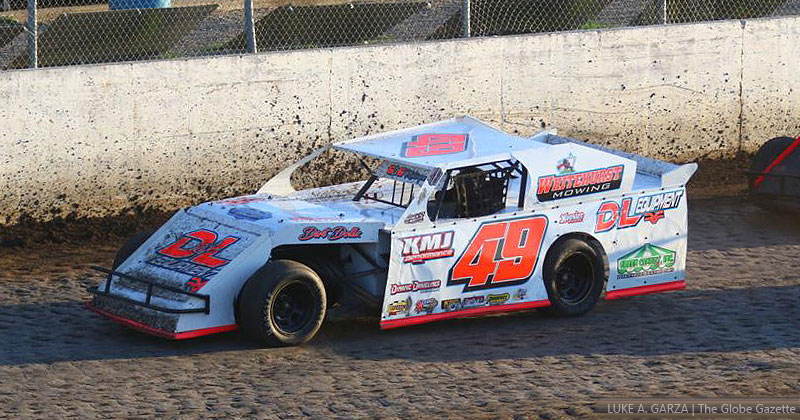 Nate Whitehurst won the Out-Pace USRA B-Mod feature on Sunday, July 8, 2018, at the Mason City Motor Speedway in Mason City, Iowa.
Mother Nature has made weekly races seem more like monthly races this season, but weather struggles were far from present Sunday.
Mason City Motor Speedway hosted its second full night of 2018's Summit USRA Weekly Racing Series, but there should have been a lot more races at this point in the year.
Promoter Al Hejna has been involved in racing throughout his entire life, yet this is the first time he has seen weather derail a season this severely.
"We had one full night before the Fourth of July," Hejna said. "I don't know if any track can ever say that."
Hejna said making up race dates after the season ends would be a futile effort, but feature races from the Iron Man Challenge event, which were postponed because of rain June 17, are scheduled to take place Sunday, July 15, in addition to the week's usual races.
Mason City's Nate Whitehurst, a driver of an Out-Pace USRA B-Mod, was one of Sunday's winners. He took home $600, which was tied for the top prize of the night.
Whitehurst said it had been a couple of years since his last victory at Mason City Motor Speedway. He races at various tracks, but his hometown track holds value because of the family atmosphere and the crowd.
"I like to put on a show for the home crowd here and do great for them," Whitehurst said. "I got a lot of local fans and stuff, so that kinda helps."
In addition to the environment, Mason City Motor Speedway is much quicker than short-track races, which Whitehurst enjoys.
"We haven't had very good luck around here," Whitehurst said. "We'll get here, and we'll get a heat race or two, and it'll get rained out. It's just kind of a bad year, I guess. For farmers and for racing."
Although rain has made for unusual circumstances at the speedway this season, Sunday served as a reminder of the satisfaction a full night of racing provides.