Zwanziger breaks long drought with victory in Mason City
July 9, 2017 | by Blake Schultz, Globe Gazette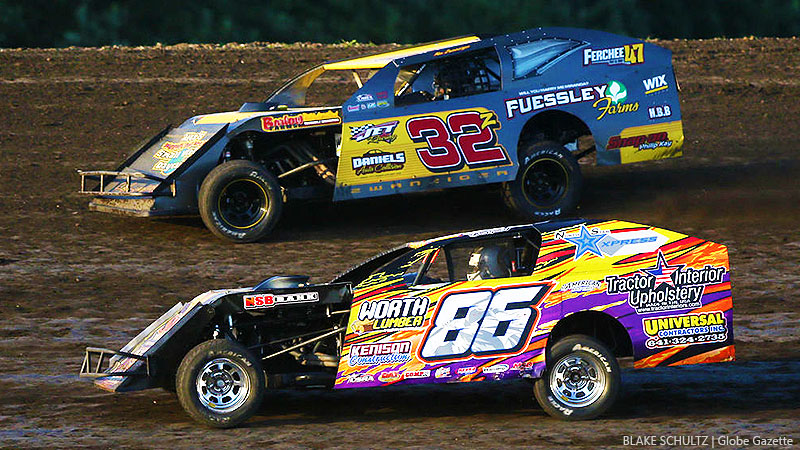 Alex Zwanziger (32) works to pass Dan Tenold (86) during Sunday night's Out-Pace USRA B-Mod feature at the Mason City Motor Speedway.
For almost two years, Alex Zwanziger has been trying to find himself at the Mason City Motor Speedway. The driver from Nashua was track champion in the Out-Pace USRA B-Mods in 2014 before nabbing his last win at the track on July 19, 2015.
Through all the ups and downs, Zwanziger finally appears to be heading back into form. He took second in his last time out on June 25, and on Sunday, Zwanziger held on for his first victory in nearly two years.
J.D. Auringer started from the pole and led the whole race on the way to his second Budweiser USRA Modified victory of the season. Jesse Brown earned his first feature victory of the year in the Holley USRA Stock Cars and Andrew Borchardt, who started sixth, grabbed an early lead and never let go as he drove to his second USRA Hobby Stock win of the year. Oliver Monson grabbed his first win of the season in the Rookies Rockin' USRA Tuners feature.
= = = = = = = = = = = = = = =
OFFICIAL RESULTS
United States Racing Association
Summit USRA Weekly Racing Series
Mason City Motor Speedway, Mason City, Iowa
Sunday, July 9, 2017
BUDWEISER USRA MODIFIEDS – J.D. Auringer, Jason Cummins, Ryan Ruter, Levi Nielsen, Cole Ferguson, Devon Havlik, Alex Hanson, Alex Yohn, Logan Brown, Dan Albright, Jacob Stark, Dustin Brown, Darwin Karau.
HOLLEY USRA STOCK CARS – Jesse Brown, Steve Jackson, Luke Sathoff, Todd Staley, Kevin Donlan, Josh Zieman, Dan Feltus, Joseph Willier, Dylan Suhr, Cole Jackson, Nadia Treichel, Wyatt Medlin, Cody Frerichs, Rick Todd.
OUT-PACE USRA B-MODS – Alex Zwanziger, Jim Chisholm, Brandon Hare, Dan Tenold, Jamie Anderson, Josh Appel, Kyle Germundson, Autum Anderson, Carter Koop, Nate Whitehurst, Jayden Larson, Clayton Heuer, Andrew Inman.
USRA HOBBY STOCKS – Andrew Borchardt, Tony Smidt, Zac Smith, Scott Dobel, Travis Shipman, Matt White, Jonathon Trunkhill, Jay Servantez, Blaine Hanson, Chanse Hollatz, Connor Smith, Jim Lokenvitz, Ben Peterson, Jamie Odor, Derek Willert.
ROOKIES ROCKIN' USRA TUNERS – Oliver Monson, Mitch Balik, Ryan Bryant, Kyle Balik, Jamie Tapp, Devin Jones.