Panos, Schlangen, Smith, Jones win in Mason City, rain forces double USMTS features Aug. 13
June 11, 2017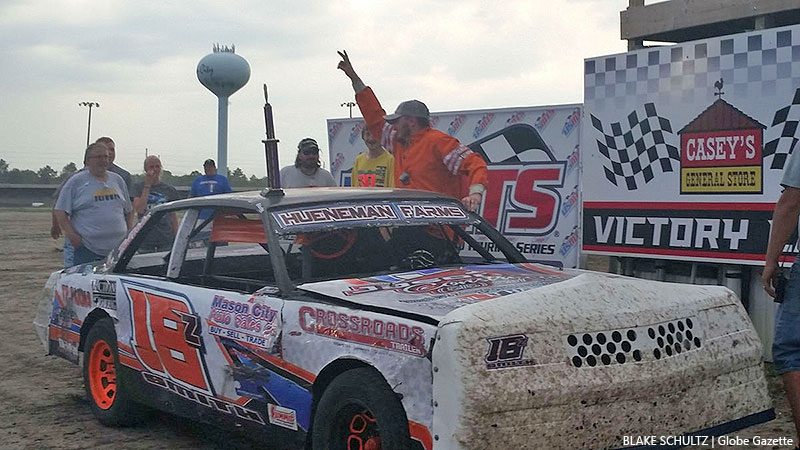 Zac Smith won the USRA Hobby Stock feature.
Mother Nature could have waited a little longer Sunday night before she let loose at the Mason City Motor Speedway. But instead, two laps into USMTS Diamond Jo Casino "All-In 77" main event, the sky opened up and rain poured down.
The event was postponed, and Sunday's cancelation moves the feature race to Sunday, Aug. 13, when the track will host double USMTS features.
The RHRSwag.com Northern Region make-up race will be run in addition to a full program during The Hunt for the Casey's USMTS National Championship powered by S&S Fishing & Rental.
Jason Schlangen opened up the night with a feature win in the Out-Pace USRA B-Mods—his first since taking the opening two shows last year at MCMS.
"We've been struggling this year," Schlangen said. "We've been running okay, it's just we can't seem to get the thing to run right. The gas kind of stumbles and it doesn't want to take off. It didn't matter much tonight but I'm still trying to figure out what's going on with it."
Schlangen, a Cresco resident, is back to running mostly full time in Mason City after a broken hand sustained early last season kept him off the track.
In Sunday's feature, Schlangen started fourth, took an early lead, and ran away with the victory.
"It was just a good track. It was wide open up top and that's the kind of tracks I like—where you can just drive, not look and hammer it in there. That's kind of what fits me usually," he said.
Dustin Kruse came in second behind Schlangen while Nate Chodur was third.
Later in the evening, Lynn Panos held off the field to win the Holley USRA Stock Car feature—his first of the year in Mason City. Panos held off a hard-charging Luke Sathoff, who finished second.
In the Rookies Rockin' USRA Tuners, Clear Lake's Devin Jones won his third feature in four races.
A veteran of the speedway, Zac Smith finally broke through for his first USRA Hobby Stock feature win, which ended up being the highlight of Sunday night's show.
RESULTS:
Holley USRA Stock Cars – Lynn Panos, Luke Sathoff, Cody Frerichs, Jesse Brown, Kevin Donlan, Dan Feltus, Dave Kuykendall, Rick Todd, Dylan Suhr, Cole Jackson, Nadia Treichel, Steve Jackson, Arlen Hoy, Todd Staley.
Out-Pace USRA B-Mods – Jason Schlangen, Dustin Kruse, Nate Chodur, Brandon Hare, Jayden Larson, Austin Kaplan, Jim Chisholm, Josh Appel, Alex Zwanzinger, Dan Tenold, Levi Chipp, Kyle Germundson, Carter Koop, Nate Whitehurst, Clayton Heur, Zack Tannahill, George Nordman.
USRA Hobby Stocks – Zac Smith, Derek Willert, Andrew Borchardt, Chanse Hollatz, Scott Dobel, Tony Smidt, Matt White, Jay Servantez, Blaine Hanson, Chris Hovden, Jeremy Grantham, Jonathon Trunkhill, Joel Showalter, Jamie Carolan, Tanner Green.
Rookies Rockin' USRA Tuners – Devin Jones, Mitch Balik, Kyle Balik, Ryan Bryant, Jamie Tapp, Oliver Monson.
USMTS Modifieds – Feature rained out, postponed to Sunday, Aug. 13