Appel, Donlan provide drama on opening night at Mason City
May 7, 2017 | by Blake Schultz, Globe Gazette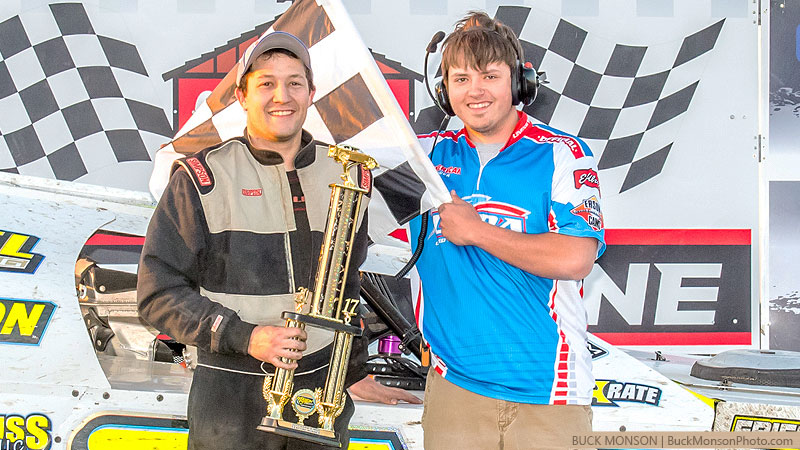 Josh Appel won the Out-Pace USRA B-Mod feature.
As if Sunday's opening night wasn't exciting enough for North Iowa race faces who made their way to the Mason City Motor Speedway, they were also gifted with a pair of thrilling finishes to kick off the 2017 season.
Josh Appel started the night off with a second-to-last-lap pass for the win in the Out-Pace USRA B-Mod feature and then Kevin Donlan drummed up a little drama off his own with a late-race pass to secure the Holley USRA Stock Car feature victory.
= = = = = = = = = = = = = = =
OFFICIAL RESULTS
United States Racing Association
Summit Racing USRA Weekly Racing Series
Mason City Motor Speedway, Mason City, Iowa
Sunday, May 7, 2017
USRA Modifieds – Josh Angst, Jason Cummins, Ryan Ruter, J.D. Auringer, Levi Nielsen, Kevin Sota, Logan Brown, Devon Havlik, Doug Hillson, Alex Yohn, John Moore, Josh Ruby, Al Hejna, Cory Crasper, Dan Albright.
Holley USRA Stock Cars – Kevin Donlan, Lynn Panos, Luke Sathoff, Kyle Falck, Cody Frerichs, Dave Kuykendall, Steve Jackson, Andrew Lokenvitz, Jesse Brown, Rick Todd, Nadia Treichel, Dean Cornelius, Dylan Suhr, Jim Scribner, Arlen Hoy, Joe Willier.
Out-Pace USRA B-Mods – Josh Appel, Jim Chisholm, Jared Boumeester, Dan Hovden, Jayden Larson, Brandon Hare, Nate Whitehurst, Austin Kaplan, Levi Chipp, Dan Christopher, Cole Denner, Alex Zwanzinger, Dustin Kruse, George Nordman, Taylor Ausrud, Dan Tenold, Robert Moore, Coby Bangasser, Kyle Germundson, Michael Chisholm, Autum Anderson, Steve Inman, Carter Koop.
USRA Hobby Stocks – Chanse Hollatz, Matt White, Scott Dobel, Tony Smidt, Derek Willert, Tanner Green, Blaine Hanson, Zac Smith, Andrew Borchardt, Jason Bradley, Brandon Schaer, Jay Servantez, Jonathon Trunkhill, Joel Showalter.
Rookies Rockin' USRA Tuners – Devin Jones, Nate Coopman, Ryan Bryant, Jerry Coopman, Cody Vandusen, Bubba Brown, Hunter Benson, Jamie Tapp, Shawn Kraft, Oliver Monson, Tim Simpson.