Champions honored during final night at Mason City Motor Speedway
September 18, 2016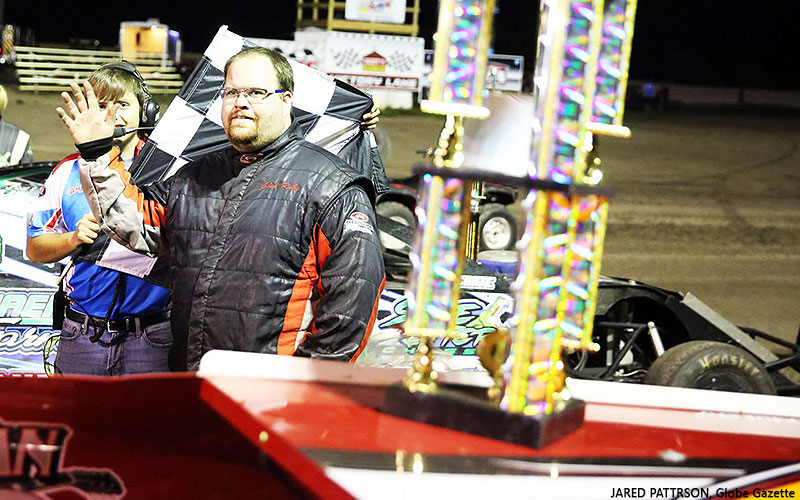 When the green flag dropped on the 2016 racing season, those in charge of Mason City Motor Speedway wanted to change the culture.
It wasn't going to happen in one week. Maybe not in one year. But they wanted progress, and the reaction from drivers and fans alike as the season wore on was going to be a sure indicator.
When the final checkered flag flew Sunday night during fan appreciation night, the first chapter closed.
SUNDAY'S RESULTS:
Budweiser USRA Modifieds – Jason Cummins, Ryan Ruter, Josh Angst, J.D. Auringer, Aaron Benson, Kevin Stoa, Josh Ruby, Alex Yohn, Dustin Brown, Logan Brown, Clint Wendel, Doug Hillson, Rich Lewerke, Levi Nielsen, Dean Schroeder, James Parker, Cole Hall.
USRA Stock Cars – Lynn Panos, Jesse Brown, Luke Sathoff, Steve Jackson, Kevin Donlan, Jim Scribner, Joe Willier, Cody Frerichs, Blake Cole, Shawn Wilson, Josh Zieman, Pat Graham, Wyatt Medlin, Dan Feltus.
USRA B-Mods – Jared Boumeester, Nate Chodur, Alex Zwanziger, George Nordman, Brandon Hare, Dan Tenold, Josh Appel, Lyle Sathoff, Levi Chipp, Nick Wagner, Autum Anderson, Coby Bangasser, Levi Carlberg, Rick Baxter, Nate Whitehurst, Jared Timmerman, Dustin Kruse, Kyle Germundson.
USRA Hobby Stocks – Weston Koop, Andrew Borchardt, Cory Gansen, Scott Dobel, Zac Smith, Blaine Hanson, Tony Smidt, Derek Willert, Chris Hovden, Jonathon Trunkhill, Tanner Green, Jim Lokenvitz, Jay Servantez, Greg Lammers, Spencer Cole.
Rookies Rockin' Tuners – Devin Jones, Oliver Monson, Mitch Balik, Hunter Benson, Taylor Fields, Kyle Balik, Ken Winkowitsch, Jamie Tapp, Nick Hamlin, Brad Maynard, Matt Baker, Nathan Miller, Justin Neilson.