Road to Season Championships starts opening night at Mason City Motor Speedway
March 28, 2016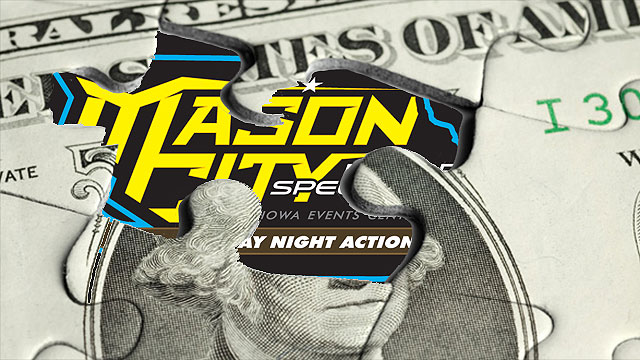 The Mason City Motor Speedway is fully committed to excellence in 2016.
"We aim to prove that, through good promotion and hard work, fans will support the track if the show is run well with great action, and that drivers will support the track if they are treated and paid fairly for their hard work," said co=promoter Al Hejna. "Throughout 2016, all weekly purses and year-end points funds are guaranteed. This is our commitment to the drivers and we're asking them to be a part of something special with us."
Drivers finishing in the top 12 in points or with perfect attendance will be invited to Season Championships night, so it's important to be there opening night on Sunday, May 22, to get off to a good start and be eligible for huge payouts and points funds at the end of the season Aug. 28. All Season Championship main events will start heads-up by points.
This is also Fan Appreciation Night with $1 admission for spectators, so a packed house is expected. Drivers and crews will also pay just $1 to get into the pits Aug. 28. Trophies and points funds will also be awarded this night in front of a capacity crowd.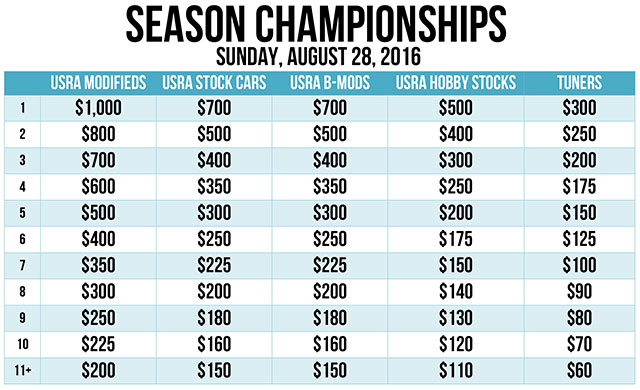 The Rookies Rockin' Tuners will pay $300 to win the feature on Season Championships night and $300 to win the track points title (that's more than the Sport Compact national champion was paid in 2015). All other classes—Budweiser USRA Modifieds, USRA Stock Cars, USRA B-Mods and USRA Hobby Stocks—will pay $1,000 to win the track points title, with at least $125 in points fund money guaranteed to every driver with perfect attendance.
USRA Stock Cars and USRA B-Mods will be permitted to run the Hoosier G-60 tires for the first three nights of the 2016 season. The superior, longer-lasting American Racer KK-704 racing tires will be mandatory on the rear beginning June 5 and on all four tires by July 8.
2016 PONTS FUNDS: All USRA classes – 1. $1000, 2. $700, 3. $600, 4. $500, 5. $400, 6. $300, 7. $250, 8. $225, 9. $200, 10. $180, 11. $160, 12. $150, 13. $140, 14. $130, 15. $125; Rookies Rockin' Tuners – 1. $300, 2. $250, 3. $200, 4. $175, 5. $150, 6. $125, 7. $100, 8. $90, 9. $80, 10. $70, 11. $60, 12. $50.
The grand opening on Sunday, May 22, will feature Budweiser USRA Modifieds, USRA Stock Cars, USRA B-Mods, USRA Hobby Stocks and Rookies Rockin' Tuners. Adult spectator admission is $10. Juniors ages 13-16 and seniors 65 and older get in for just $8. Kids 12 and under are free. Pits passes are $25.
The pit gate opens at 4 p.m., spectator gate opens at 5, drivers meeting is set for 6, hot laps begin at 6:30 and the first green flag waves at 7 p.m.
Various special events are also in the planning stages, including shows featuring the Casey's General Stores USMTS Modifieds, World of Outlaws Craftsman Late Models, FVP National Sprint League, Monster Trucks featuring Big Foot and Bounty Hunter, freestyle motocross, demolition derby and more.
The Mason City Motor Speedway is a semi-banked half-mile clay oval located 5.1 miles east of I-35 at exit 194 on SR 122 (at the North Iowa Fairgrounds). For more information about the Mason City Motor Speedway, call (641) 424-6515 or check out www.masoncitymotorspeedway.com online. You can also like the track's Facebook page at www.facebook.com/masoncitymotorspeedway follow on Twitter at www.twitter.com/racinmasoncity (@RacinMasonCity).
To learn more about the USRA, visit www.usraracing.com or call 515-832-6000. You can also like us on Facebook at www.facebook.com/usraracing, follow us at www.twitter.com/usraracing on Twitter and check out our YouTube channel at www.youtube.com/usratv.