Mason City Motor Speedway unveils Pit Pass Payback
February 6, 2016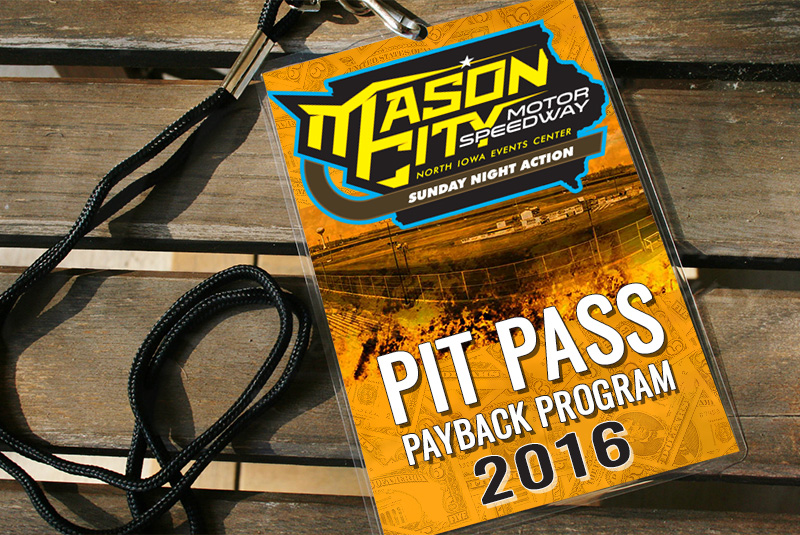 Have you heard about Mason City Motor Speedway's new Pit Pass Payback program for the 2016 racing season?
If you're a dirt track racer, then you should hear this.
Pit passes will be $25 during every regularly scheduled points night at the Mason City Motor Speedway. For every pit pass that is purchased by the drivers, the track will give back 20% of that amount to the drivers during the next regularly scheduled points night.
For example, opening night will feature Budweiser USRA Modifieds, USRA Stock Cars, USRA Bods, USRA Hobby Stocks and Rookies Rockin' Sports Bar Tuners. Let's say we sell 100 pit passes to drivers that night. Well, on Monday, May 30, when the same five classes are racing again, we will give back $500 in prizes ranging from hard luck awards, free pit passes, fuel, tires, rims, items from the parts trailer and more.
These aren't contingency certificates. This is real payback to the racers to help them with their cost to race with us at the Mason City Motor Speedway. This is something just about any track could do… but will they?
The second night of racing on Sunday, May 22, when the Budweiser USRA Modifieds are not racing, the Pit Pass Payback will be in effect on Sunday, June 5, and then again on Sunday, June 19, and so forth.
There is one catch: you have to be there on the night the pit passes were sold to take part in the corresponding Pit Pass Payback night.
On the heels of a difficult year that saw the track end its 2015 season abruptly with one month remaining on the schedule due to low fan turnout and depleted car counts, the landscape is changing at the historic North Iowa Fairgrounds speedplant.
A large of contingent of fair board members, staff and volunteers are already in the midst of dozens of changes to the racing surface and associated amenities. Tons of new clay will breathe life back into the track that will be reshaped in an effort to produce more side-by-side racing action for the paid attendees.
The payouts for each class will be enhanced significantly, starting with USRA Modifieds which will run for $1,000 to win. USRA Stock Cars and USRA B-Mods will race for $500 weekly and the USRA Hobby Stock winner will pocket $400, making the I-35 Speedway one of the best-paying (if not the best) dirt tracks in the state of Iowa.
Adult spectator admission for a weekly show will be $10.
Various special events are also in the planning stages, including shows featuring the USMTS Modifieds, World of Outlaws Craftsman Late Models, FVP National Sprint League, Monster Trucks featuring Big Foot and Bounty Hunter, freestyle motocross, demolition derby and more.
The Mason City Motor Speedway is a semi-banked half-mile clay oval located 5.1 miles east of I-35 at exit 194 on SR 122 (at the North Iowa Fairgrounds). For more information about the Mason City Motor Speedway, call (641) 424-6515 or check out www.masoncitymotorspeedway.com online. You can also like the track's Facebook page at www.facebook.com/masoncitymotorspeedway follow on Twitter at www.twitter.com/racinmasoncity (@RacinMasonCity).
To learn more about the USRA, visit www.usraracing.com or call 515-832-6000. You can also like us on Facebook at www.facebook.com/usraracing, follow us at www.twitter.com/usraracing on Twitter and check out our YouTube channel at www.youtube.com/usratv.