Mason City Motor Speedway new name for former I-35 Speedway
October 30, 2015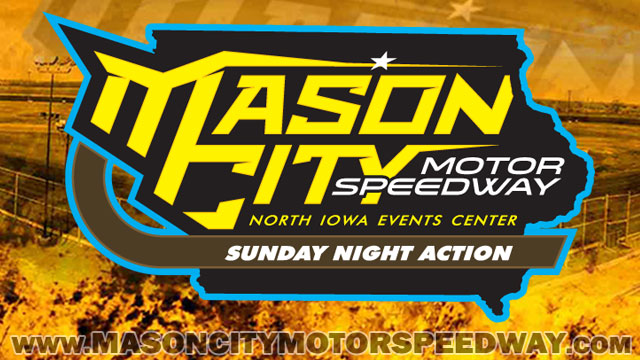 Hope and change is alive and well in Mason City, Iowa.
On the heels of a difficult year that saw the track end its 2015 season abruptly with one month remaining on the schedule due to low fan turnout, the landscape is changing at the historic North Iowa Fairgrounds.
Lifelong Mason City resident and former dirt modified standout Al Hejna was named the new promoter of the dirt track located at the North Iowa Events Center back in September, and more changes are occurring almost daily.
With a new face in the captain's chair and renewed optimism among the fans, drivers and businesses that support the facility, a new name has been established for the former I-35 Speedway.
The name Mason City Motor Speedway will now shine a light on the city that has supported the legendary venue for more than half a century as they turn the calendar to 2016. A new, vibrant logo puts a bow on the title transition.
A large of contingent of fair board members, staff and volunteers are already in the midst of dozens of changes to the racing surface and associated amenities. Tons of new clay will breathe life back into the track that will be reshaped in an effort to produce more side-by-side racing action for the paid attendees.
Hejna's son-in-law, Ryne Staley, will act as general manager and co-promoter of the events at the facility, along with his father, Todd Staley, who owns and operates the United States Modified Touring Series (USMTS) and United States Racing Association (USRA).
The USRA will sanction weekly racing at the track in 2016. Although the cosmetic and performance changes required of drivers will be nothing to minimal, competitors will certainly see a difference at the pay window every Sunday night.
The payouts for each class will be enhanced significantly, starting with USRA Modifieds which will run for $1,000 to win. USRA Stock Cars and USRA B-Mods will race for $500 weekly and the USRA Hobby Stock winner will pocket $400, making the I-35 Speedway one of the best-paying dirt tracks in the state of Iowa.
Various special events are also in the planning stages, and Hejna noted that the fair board members are working together to promote five nights of motorsports attractions during next year's fair, July 20-24, 2016.
Adult spectator admission for a weekly show will be $10.
A new website at www.masoncitymotorspeedway.com is live and a work in progress. The track also has a new Facebook page at www.facebook.com/masoncitymotorspeedway or you can follow them on Twitter at www.twitter.com/racinmasoncity (@RacinMasonCity).
For more information, call (641) 424-6515. The Mason City Motor Speedway is a semi-banked half-mile clay oval located at the North Iowa Events Center at 3700 4th St. SW in Mason City, Iowa.
To learn more about the USRA, visit www.usraracing.com or call 515-832-6000. You can also like us on Facebook at www.facebook.com/usraracing, follow us at www.twitter.com/usraracing on Twitter and check out our YouTube channel at www.youtube.com/usratv.