Zieman, Willert race to emotional wins at Mason City Motor Speedway
August 6, 2017 | by Blake Schultz, Globe Gazette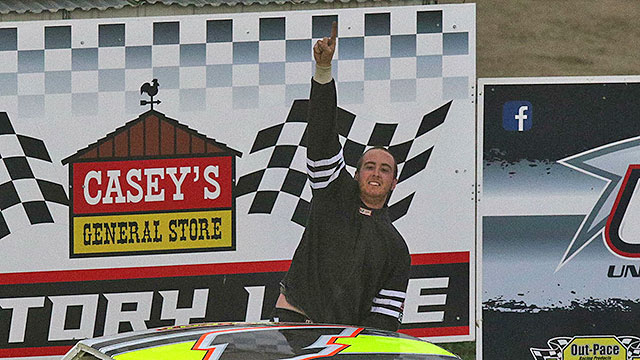 In racing, there aren't many moments like capturing your first victory, whether it's the first at your home track or the first of your career.
Josh Zieman, the grandson of Mason City racing legend Ted Zieman, captured his first ever victory when he drove to first in the Holley USRA Stock Car feature. The win was just as sweet for Willert, who had already won twice in his career prior to Sunday night's USRA Hobby Stock victory, but never at the Mason City Motor Speedway.
Read Full Story
= = = = = = = = = = = = = = =
OFFICIAL RESULTS
United States Racing Association
Summit USRA Weekly Racing Series
Mason City Motor Speedway, Mason City, Iowa
Sunday, Aug. 6, 2017
BUDWESIER USRA MODIFIEDS –
Jason Cummins, Ryan Ruter, J.D. Auringer, Cory Crasper, Cole Ferguson, Curt Myers, Aaron Benson, Alex Yohn, Chris Clark, Dan Albright, Greg Jensen, Logan Brown.
HOLLEY USRA STOCK CARS –
Josh Zieman, Jesse Brown, Lynn Panos, Luke Sathoff, Kevin Donlan, Rick todd, Dave Kuykendall, Todd Staley, Steve Jackson, Arlen Hoy, Blake Cole, Joesph Willier, Andy Stinson, Travis Shipman, Dan Feltus, Wyatt Medlin, Nadia Treichel, Dylan Suhr, Daid Balik, John Campbell, Cole Jackson.
OUT-PACE USRA B-MODS
– Dustin Kruse, Jason Schlangen, Alex Zwanziger, Nate Whitehurst, Clint Wendel, Jim Chisholm, Brandon Hare, Dan Tenold, Jayden Larson, Levi Chipp, Todd Hanson, Autum Anderson, Kyle Germundson, Josh Appel, Kenny Boge Jr., Bisck Baxter, Zack Tannahill, Clayton Heuer, Carter Koop, Jared Timmerman.
USRA HOBBY STOCKS
– Derek Willert, Dustin Gulbrandson, Zac Smith, Tony Smidt, Matt White, Tyler Pospisil, Scott Dobel, Andrew Borchardt, Blaine Hanson, Jay Servantez, Spencer Cole, Joel Showalter, Jonathon Trunkhill, Jim Lokenvitz.
ROOKIES ROCKIN' USRA TUNERS
– Devin Jones, Justin Nielson, Jamie Tapp, Oliver Monson, Kyle Balik, Mitch Balik, Ryan Bryant.