Holtz, Hovden, Dobel, Jones claim Mason City checkers
August 14, 2016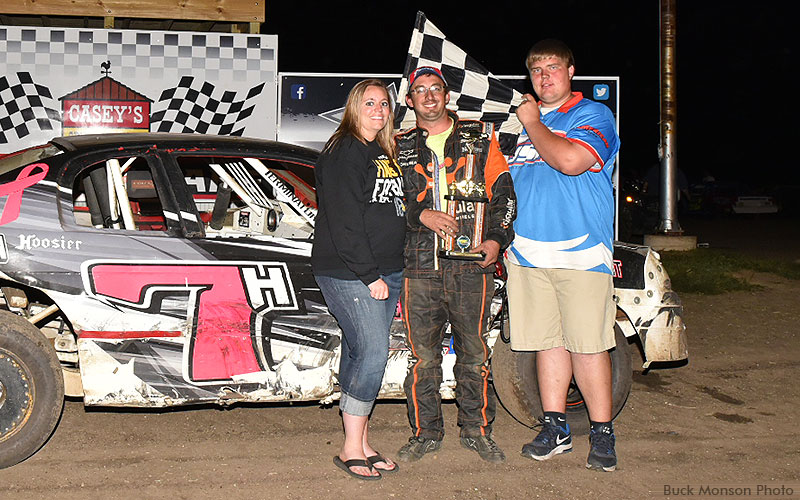 Phil Holtz won the USRA Stock Car feature.
While the USMTS invaded the Mason City Motor Speedway Sunday night, four other drivers also notched victories at the historic North Iowa Fairgrounds oval.
In USRA Stock Car action, Phil Holtz was impressive as he also garnered his first win in Mason City by holding off current USRA national points leader Mitch Hovden. Jesse Brown was third, Joe Willier finished fourth and veteran Steve Jackson took the fifth spot.
The other half of the Decorah racing brothers, Dan Hovden, visited Casey's General Stores Victory Lane in the USRA B-Mod main event. Jared Boumeester grabbed the runner-up spot, Taylor Ausrud tok third, Alex Zwanziger was fourth and fifth went to Dan Christopher.
Scott Dobel held off a late-race charge by Weston Koop to win his first USRA Hobby Stock feature of the year at the Mason City Motor Speedway. Andrew Borchardt, Austin Jahnz and Zac Smith rounded out the top five.
In the Rookies Rockin' Tuner division, Devin Jones picked up his first win of the season by holding off Oliver Monson, Kyle Balik, A.J. Myott and Hunter Benson.
Racing continues next Sunday, Aug. 21, with the final points night of the USRA Weekly Racing Series in Mason City featuring Budweiser USRA Modifieds, USRA Stock Cars, USRA B-Mods, USRA Hobby Stocks and Rookies Rockin' Tuners.
The pit gate opens at 4 p.m., spectator gates open at 5 and racing starts at 6 p.m. General admission is just $10 while juniors (13-16) and seniors (65+) get in for $8. Kids 12 and under are free, and pit passes are just $25.
The Mason City Motor Speedway is a semi-banked 1/2-mile clay oval located 5.1 miles east of I-35 at exit 194 on SR 122 (at the North Iowa Fairgrounds). For more information, check out www.masoncitymotorspeedway.com online.
= = = = = = = = = = = = = = =
OFFICIAL RESULTS
United States Racing Association
USRA Weekly Racing Series
Mason City Motor Speedway, Mason City, Iowa
Sunday, Aug. 14, 2016
USRA STOCK CARS — 1. Phil Holtz, 2. Mitch Hovden, 3. Jesse Brown, 4. Joe Willier, 5. Steve Jackson, 6. Blake Cole, 7. Calvin Lange, 8. Pat Graham, 9. Shawn Wilson, 10. Scotty Anderson, 11. Kevin Donlan, 12. Wyatt Medlin, 13. Brandon Hare, 14. Kevin Opheim, 15. Cody Frerichs, 16. Andy Stinson, 17. Dan Feltus, 18. Josh Zieman
USRA B-MODS — 1. Dan Hovden, 2. Jared Boumeester, 3. Taylor Ausrud, 4. Alex Zwanziger, 5. Dan Christopher, 6. Nate Chodur, 7. Kyle Germundson, 8. Levi Chipp, 9. Anderw Bleess, 10. Matthew Looft, 11. Dustin Kruse, 12. Josh Appel, 13. Nick Wagner, 14. Brandon Hare, 15. Coby Bangasser, 16. Travis Greenfield, 17. Greg Barnett, 18. Levi Carlberg, 19. Autum Anderson.
USRA HOBBY STOCKS — 1. Scott Dobel, 2. Weston Koop, 3. Andrew Borchardt, 4. Austin Jahnz, 5. Zac Smith, 6. Cory Gansen, 7. Spencer Cole, 8. Tanner Green, 9. Blaine Hanson, 10. Derek Willert, 11. Jim Lokenvitz, 12. Chris Hovden, 13. Tyler Pospisil, 14. Jonathon Trunkhill, 15. Jay Servantez, 16. Chanse Hollatz.
ROOKIES ROCKIN' TUNERS — 1. Devin Jones, 2. Oliver Monson, 3. Kyle Balik, 4. A.J. Myott, 5. Hunter Benson, 6. Chris Wilson, 7. Ken Winkowitsch, 8. Nick Hamlin, 9. Jamie Tapp, 10. Mitch Balik, 11. David Balik, 12. Taylor Fields, 13. Nathan Miller.